Farah Karimi bij de Oxfam Novib/PEN Awards 2015
Farah Karimi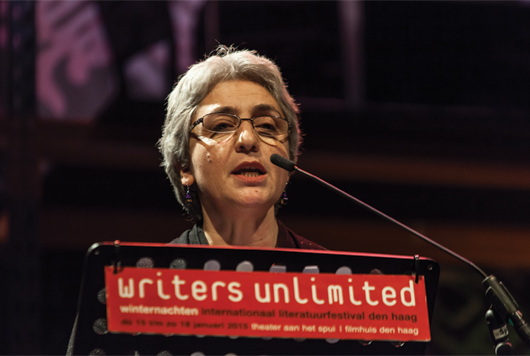 Foto:H.P.Alting von Geusau
Ladies and gentlemen,
Thank you all for being here tonight.
'Let ink flow, not blood!' This is the urgent call by Reporters without Borders, after the recent Charlie Hebdo-attacks. Like everybody else I was shocked when I heard about the killings. The bitter loss of the lives of these journalists proves that nowhere on earth we can take freedom of speech for granted. Every year, many journalists and writers risk their lives just by doing their jobs. More than 60 journalists were killed last year, according to the Committee to Protect Journalists. The list of punishments is much longer: Torture. Prison. Blackmail. Exile.
All of this happens in the name of religion, such as in France, Syria and Iran. In the name of state ideology, for example in China and Russia. And in the name of the war on terrorism, in countries such as Afghanistan. However, the main goals are usually to get more economic and/or political power. Therefore, the oppression of the free word is institutionalized in so many societies. Still in many countries, states and governments are the main oppressors with their laws, rules and policies. In addition to governments, the so called non-state actors, criminals and terrorists are more and more violating the rights of journalists and writers. We face an increase of intolerance and violence against the free word across countries, regions, cultures and religions.
Freedom of expression, freedom of speech and freedom of the press are essential human rights. But they come at a high price. It is our firm belief that respecting human rights is a prerequisite for building sustainable, just and peaceful societies. That is why tonight, for the fourteenth time since 2001, Oxfam Novib and PEN are honoring courageous writers and journalists who speak out against injustice and oppression. The burning question after the Paris massacre is: what is the best response to these kind of killings? How do we handle increased threats to our fundamental freedoms? Should the world go on in the same way as till now? Definitely not! We must increase our support for journalists at risk, for writers and activists who are exercising the freedom of speech despite repression and censorship. The massive protests last week show that many of us are well aware how valuable this right is.
However, real actions in support of human rights activists and defenders of freedom of speech are very limited. With the Oxfam Novib/PEN Awards we try to provide some protection for the winners by recognition of their work, connecting them to the rest of the world, additional publicity and by creating awareness of their struggle. But of course many others, like governments and international organizations such as the European Union, need to take action as well. Every single day, brave writers like the award winners deserve support and protection!
While I was writing these words, I realized that this year's winners are all from Muslim majority countries. They are in the middle of the struggle against censorship and repression. I then looked at the winners of all the previous years: 18 out of 59 winners are from Islamic countries. The struggle for freedom of speech is not a new phenomena in Islamic societies. The battle about the true interpretation of Islam started already 1400 years ago when the messager, Mohammed, died. And as we speak there is a battle going on inside Islamic communities for freedom and for tolerance. Islam, a religion with over 1.8 billion followers worldwide, is too important to leave it to extremists.
Tonight's winners teach us that fear should not silence us. Supporting these courageous people is the right answer to the attacks in Paris. It is a great pleasure for me to introduce the winners of the Oxfam Novib/PEN Awards 2015 to you!

First of all, we would like to honor Abdel Moneim Mohammed Rahamtalla.This Sudanese poet, writer, journalist and activist has devoted his career to peace processes and the rights of marginalized groups. A few years ago he was sentenced to death for 'unknown charges'. We are glad that he was released eventually. Abdel Moneim now lives in Ethiopa with his family. He is still being watched by local Sudanese agents and can't get back to work. With this award, we are showing our solidarity with him.
What is better than one brave journalist? A married couple of two brave journalists!
Jila Bani-Yaghoub and her husband Bahman Ahmadi-Amouee receive an award together. 6 years ago, both of them got arrested for critizing the Iranian government. They were accused of 'spreading propaganda against the system'. Jila got out of jail, but her husband is still in there. As she is not allowed to see him, they can only communicate through letters. Bahman sheds light on the difficult and illegal conditions of prison life in his openly published letters. He proves that even behind bars activism is possible. Hopefully Jila and Bahman will reunite soon!
Now, last but not least: Razan al-Maghrabi. Razan is a well-known novelist, writer and journalist from Lybia. For many years now, she has been advocating for women's rights and freedom of expression. 'Writing and activism are the same for me', Razan told Oxfam Novib. 'Literature means nothing, if humanity is missing.' She brings her words into practice with countless great initiatives, such as the Libyan Women's Organization for Peace and Freedom. But life has been far from easy for this powerfull woman. Razan receives many threats, both online and offline. Also, she is targeted by Islamic extremists for her criticism. Razan lives at the risk of being attacked, kidnapped or arrested. Still, she refuses to stop using the free word. This takes a huge amount of courage!
We are very honored, that she is here with us tonight. Can I get a warm applause for Razan al-Maghrabi? I'd now like to invite Mrs. al-Maghrabi to the stage. Congratulations on winning your Oxfam Novib/PEN Award!
Farah Karimi
Executive Director of Oxfam Novib
Bron: Oxfam Novib, 16 januari 2015