Foto: Kunle Olawoyin
Work in progress
Work in Progress! aims for a society in which young women and men as active citizens benefit from improved policies and beliefs related to quality education, and decent employment to influence future prospects for young women and men.
Work in Progress! (WiP!) combines three intertwined pillars to address youth unemployment in Egypt, Nigeria and Somalia. The project focuses on the supply and the demand side of the labour market. Youth are trained with market relevant skills and connected to the job market and startups are linked to angel investors. The project provides small and medium enterprises (SMEs) with Business Development Services (BDS), in the hope that when they grow more employment opportunities for young people can be created. WiP! also engages in advocacy work to cultivate an enabling environment for youth and SMEs.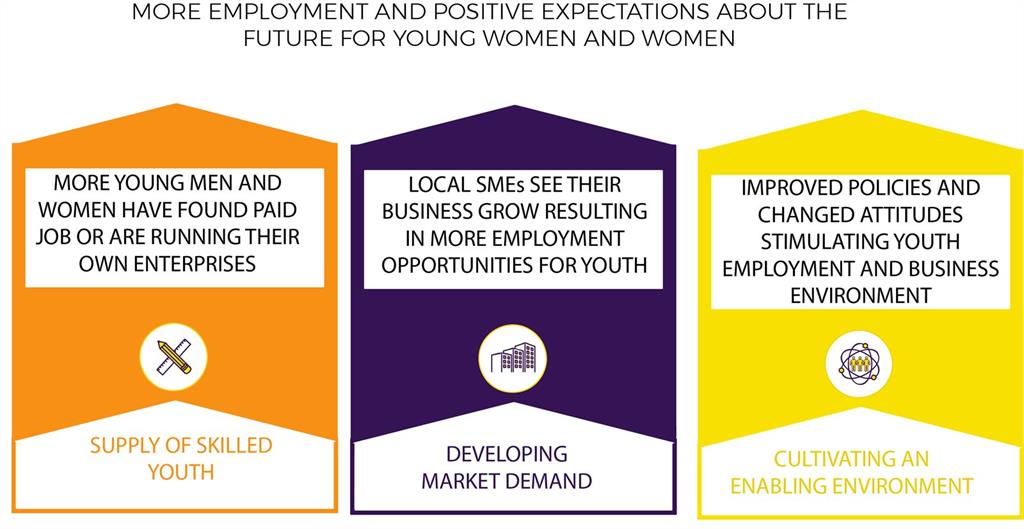 WiP! is a three-year long project financed by the Ministry of Foreign Affairs of the Netherlands as part of the LEAD (Local Employment for Africa Development) program. Four regional partners are part of the alliance implementing the project: Oxfam, Butterfly Works, the International Organization for Migration (IOM) and Venture Capital for Africa (VC4A). Besides the local partners in the three countries in which WiP! project works.
For more information about the project and how we are working with different partners varying from NGOs to social enterprises have a look at our factsheet!  
Facts
Project name:     Work in Progress!
Project period:    3 years from the 1st of January 2016 till 31st of December 2018
Target group:      Young people
Location:            Nigeria (Lagos and Edo State), Egypt (Cairo), Somalia (Somaliland)
Budget:              7, 5 million Euro
Contacts:
For more information about this project, please contact Mirjam Horstmeier Global Project Manager 

Details
Urgency
Egypt, Nigeria and Somalia are experiencing multiple social problems. However, there is one dominant problem: unemployment for young women and men. Young people do not feel part of society, are excluded from the political level and have great difficulty finding employment. Data helps to illustrate this. For instance, Egypt has the second-highest percentage of youth unemployment in the world. Somalia and Nigeria have also rampant youth unemployment. Next to this reality, ideas and prejudices exist that hinder youth, especially young women experience negative consequences as a result.
Studies coming from United Nations (UN), the International Labour Organisation (ILO) –among others- show that the lack of employment and the absence of prospects of a better future are the main reason for African youth to migrate illegally to Europe. Despite the relative economic and political improvements in Somalia, the country is still ranked seventh in terms of countries of origin of migrants crossing the Mediterranean Sea. Moreover, Nigeria is even ranked number four (after Syria, Afghanistan and Eritrea). The most common complaint of young people is that they do not have the opportunity to be included in the economic growth. Although many governments are aware of the threat of a 'lost generation', they do not seem to have the ability to turn the tides.
Project
The program outcomes and outputs are as follows:
Outcome 1: More young men and women have found paid jobs or are running their own enterprises.

To achieve this outcome
young men and women are supported to start their own enterprises
are trained to be better positions to find employment
And finally, are connected to employers.
Outcome 2: Local SMEs see business grow, resulting in newly created positions for youth

To achieve this outcome, business development services (BDS) are provided to SMEs in Nigeria, Somalia and Egypt since mid-2017.
Outcome 3: Improved policies and changed attitudes stimulate young employment and business environment 
To achieve outcome 3, the project works with young people, governments and influential people from different sectors to improve the environment for SMEs and youth.
Impact
The highlights of 2016 per outcome are:
Outcome 1
As a result of supporting young entrepreneurs via accelerators, WiP! accelerated 49 startups, founded by 102 young men and women in all three countries. After participation in the acceleration programme, 98% of startup founders felt better trained to be able to run their business
In Nigeria and Somalia, six job fairs were held which provided 500 youth with the opportunity to network with almost 80 entrepreneurs and potentially get a job. These events aimed to help overcome employment barriers among youth by giving potential employers an opportunity to share expected work skills with graduate participants. In fact, in Nigeria over 80 people found a job afterwards.
In Hargeisa Shaqodoon opened Hargabits and Ekobits was set up by Poise in Lagos with the aim of improving skills of young people from slums to help them find a job. The Bits schools started the first course with 96 students. The follow up courses 2 and 3 are finalized in 2017, completing the whole cycle of Bits curricula.
In Nigeria and Somalia, more than 500 young women and men took part in a range of trainings of soft employability skills, basic entrepreneurship and ICT. Tunga, a platform created to connect African coders developers and programmers to companies worldwide, trained 55 people in Nigeria and Somalia and connected some of them to international clients via the platform. Two of them were already active on the platform within 4 weeks.
Outcome 2
In Egypt, Somalia and Nigeria, Oxfam contracted Ahead of the Curve, Shuraako and Enterprise Development Centre (EDC) respectively. After an application period, each selected 15 to 20 SMEs to take part in the Business Development Services programme. This programme consists of classroom trainings and on-the-job support from a wide range of consultants with varied experiences. In the second year, 8 SMEs in Nigeria and Somalia received investments of investors.
Outcome 3
We lobby and do advocacy towards banks, companies and governments in Somalia with Havoyoco on youth policy and internship policy and in Nigeria with EDC on SME regulation and tax. Rise Egypt contributes in Egypt to the enabling environment of Social Enterprises.
READ MORE
Flipbook of the Work in Progress Annual Report 
Oxfam Work in Progress Campaign video
Work in Progress! kick off meeting report
Start Up Programme Launch of She Leads Africa in Nigeria
Accelerators programme in Nigeria
She Leads Africa Accelerator - Subscribe Now!