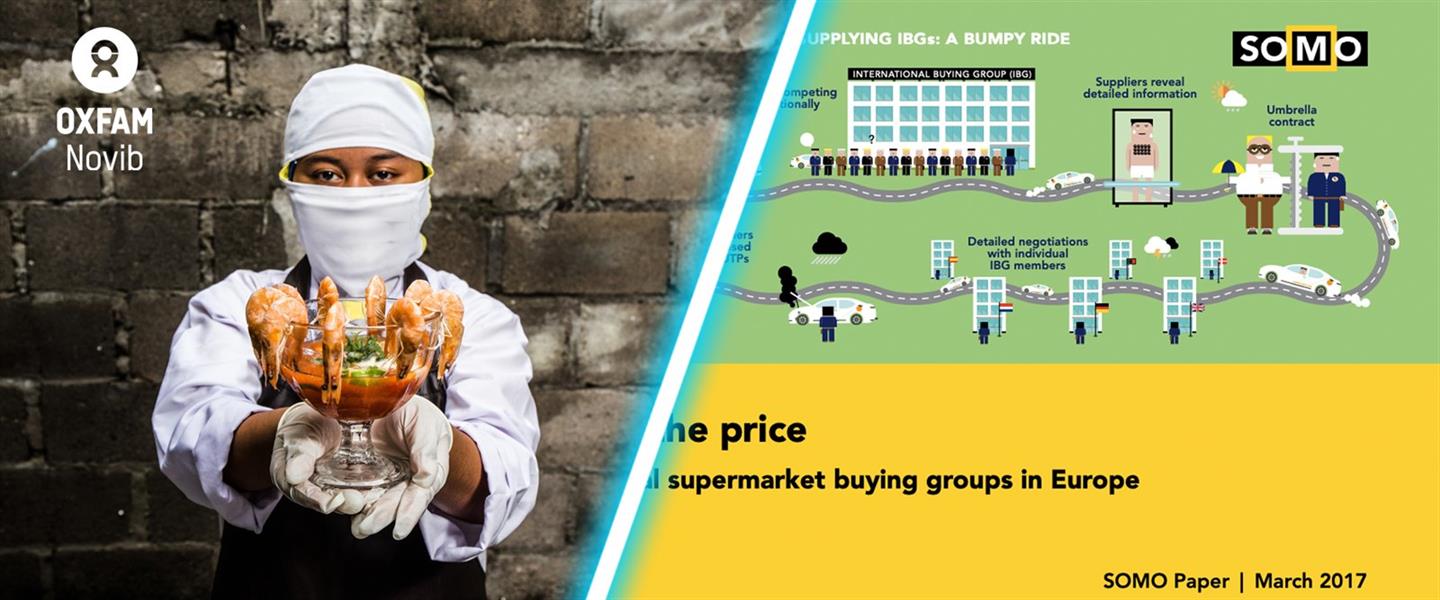 Foto: Adrian Mulya/Sustainable Food Alliance Indonesia (on the left)
1+1>2 – Or why we believe in complementary partnerships
In the Behind the Barcodes campaign, Oxfam informed customers on a nasty ingredient that can be found in many products in the supermarkets: human suffering. With the campaign, Oxfam moved supermarkets to adhere to human rights regulations throughout their value chains and to improve transparency on their sourcing of food. However, bringing about behavioral change in such powerful players is not something you do alone.
Strengths and complementarity
For this campaign, Oxfam Novib collaborated with longstanding partner SOMO. SOMO analyses the impact of large and multinational corporations and the context in which they operate. With their thorough research, they influence national and international governments such as the European Union in their policy formation. Oxfam Novib typically achieves its purposes through sustainable development programs, public education, campaigns and advocacy. These activities are always based on research and evidence, and that is where the two organizations have been complementary for the past twenty years.
Strategic alignment for improved food supply chains
An element of the Behind the Barcodes campaign was Oxfam's 'Supermarkets Scorecard', ranking supermarkets on systems and policies they have in place to address human rights issues in their supply chains. This tool was based on SOMO's input to the scorecard methodology and findings in their research. During the same campaign period, SOMO published research on the power of buying alliances in Europe and on specific product-cases, such as the breaching of workers' rights in the orange juice business. These publications resonated widely and got broader attention because of the outreach that Oxfam has with its international confederation.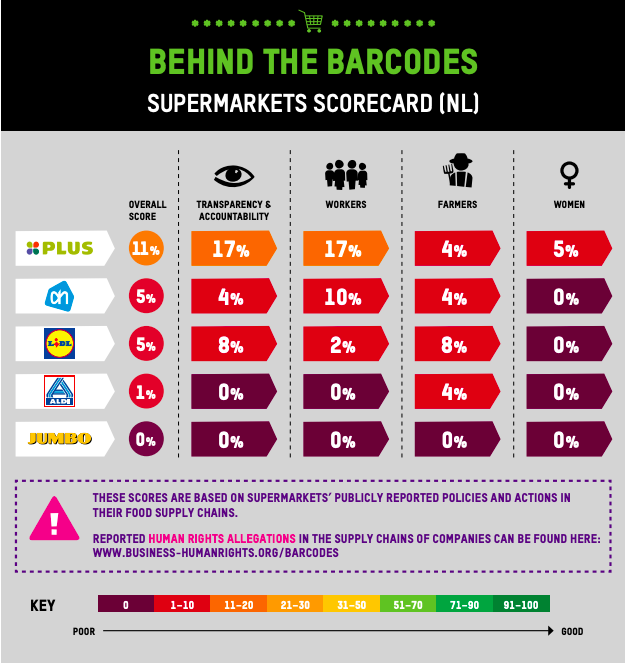 This Supermarkets Scorecard (from 2018) showed that the top five Dutch retailers did not have the systems and policies in place to ensure the necessary levels of transparency, accountability and due diligence that could help them prevent, mitigate and address human rights issues in their supply chains.
Results of collaboration
The campaigns so far led to commitments by large supermarket holdings Ahold and Jumbo, to address human rights issues in their value chains and to increase transparency in their reporting. Secondly, SOMO leveraged its research to effectively advocate for regulation against unfair commercial practices in the European Union. Thirdly and moreover, the attention created for this topic in the Netherlands, the EU and globally helped the advocacy work of alliances in production countries to lobby for improved national regulation on working conditions of workers and small suppliers.
On this road together
Although these are still small steps towards structural improvement of supermarket value chains, this case is exemplary of partners coupling their strengths in a strategic way to achieve significant impact. Besides the work on supermarket value chains, Oxfam Novib and SOMO also combine their efforts on Tax Justice. It is in partnerships that we can beat poverty and address unjust behavior and shortcoming policies.
The Oxfam Novib-SOMO strategic partnership 'Towards a Worldwide Influencing Network' invests in just societies without poverty by strengthening the advocacy and influencing capacities of partners and connecting local partners to global networks. This case highlights the efforts of Oxfam Novib and SOMO in the Netherlands and the EU. More on the related activities and results by partners in Thailand and Indonesia.
Highlighted research by SOMO
Campaign video by Oxfam Novib
Video
Op deze plek staat een YouTube video. YouTube plaatst cookies.
Als je die hier wilt bekijken, kies dan bij cookie-instellingen dat je social media cookies accepteert.
Of bekijk de video buiten deze site op YouTube.