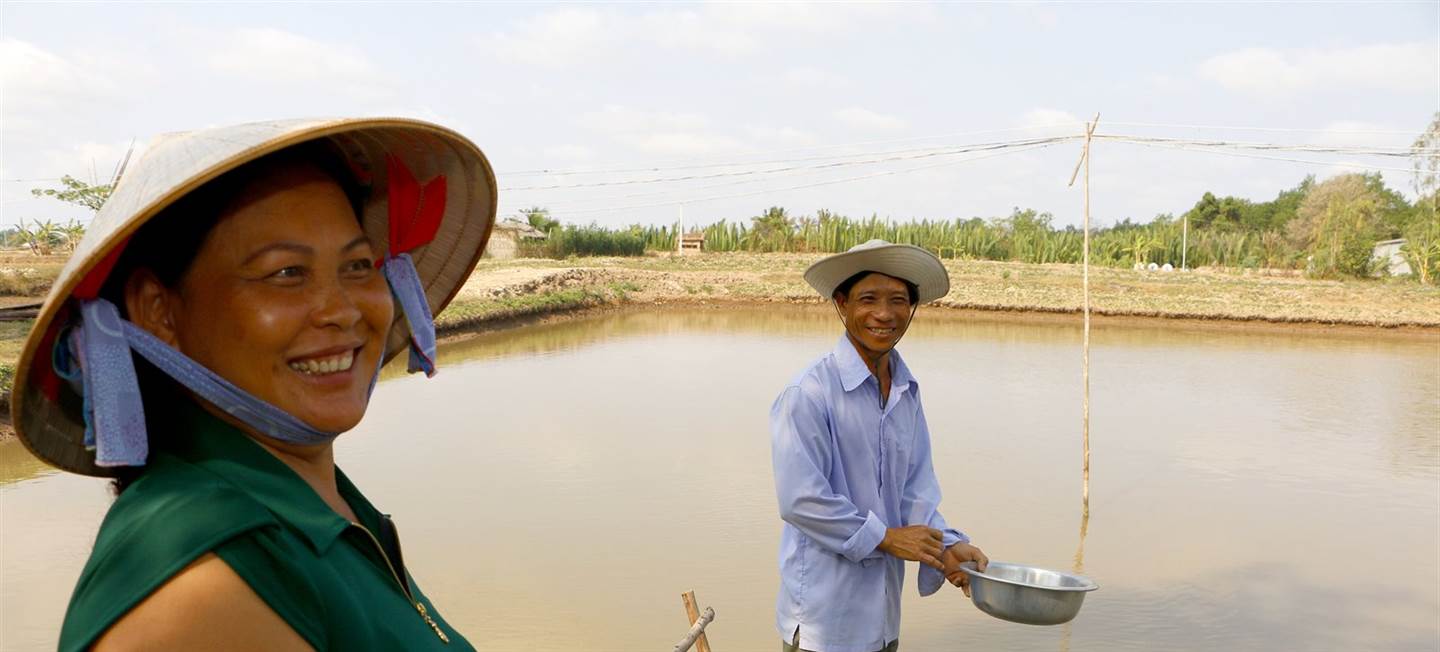 Foto: Pablo Tosco
GRAISEA
Oxfam's Gender Transformative and Responsible Agribusiness Investments in South East Asia (GRAISEA) is a regional programme which is funded by the Government of Sweden.
Since August 2018 the second phase of the GRAISEA programme has started. It continues to promote gender equitable and sustainable supply chains in which all stakeholders win: wins for communities, small-scale producers and market actors.
Video
Op deze plek staat een YouTube video. YouTube plaatst cookies.
Als je die hier wilt bekijken, kies dan bij cookie-instellingen dat je social media cookies accepteert.
Of bekijk de video buiten deze site op YouTube.
The programme:
GRAISEA continues to focus as a regional influencing programme in South East Asia to promote responsible agribusiness investments by:
Demonstrate gender transformative and responsible agribusiness investments for small-scale producers, in particular women in the selected value chains of rice and seafood (shrimp aquaculture)
Promote inclusive and responsible agribusiness regulatory frameworks in South-East Asia with leading agribusiness companies and multi-stakeholder initiatives, and with the Association of South East Asian Nations (ASEAN) and its member states.
In the second phase specific attention is given to climate change resilience for small-scale producers.
It is a joint Oxfam Great Britain, Oxfam America, and Oxfam Novib programme led by the Oxfam International Asia regional platform. It involves five regional partners (CSR Asia, Institute for Social Entrepreneurship in Asia [ISEA], Asian Seafood Improvement Collaborative (ASIC), Business and Human Rights Resource Centre Asia (BHRRC), Women's voices in South East Asia (WEAVE)), and five countries (Cambodia, Indonesia, Pakistan, Philippines, Vietnam). The Oxfam offices in these countries  work with a variety of  local country partners. It is supported by the Embassy of Sweden in Bangkok plus a number of local and international private sector partners (in kind and direct financial contributions).
Facts:
Programme name: Gender Transformative and Responsible Agribusiness Investments in South East Asia, second phase (GRAISEA2)
Programme period: August 1, 2018 - July 31, 2021
Target groups: Small-scale producers especially women, Asian agribusiness companies and multi-stakeholder initiatives, ASEAN Ministers of Agriculture and Forestry (AMAF), Ministries of  Agriculture in Cambodia, Indonesia, Pakistan, Philippines, and Vietnam.
Location: Programme management unit is based in Bangkok
Budget: US 9 million
Contact:
For more information, please contact: Gerard Steenhouwer