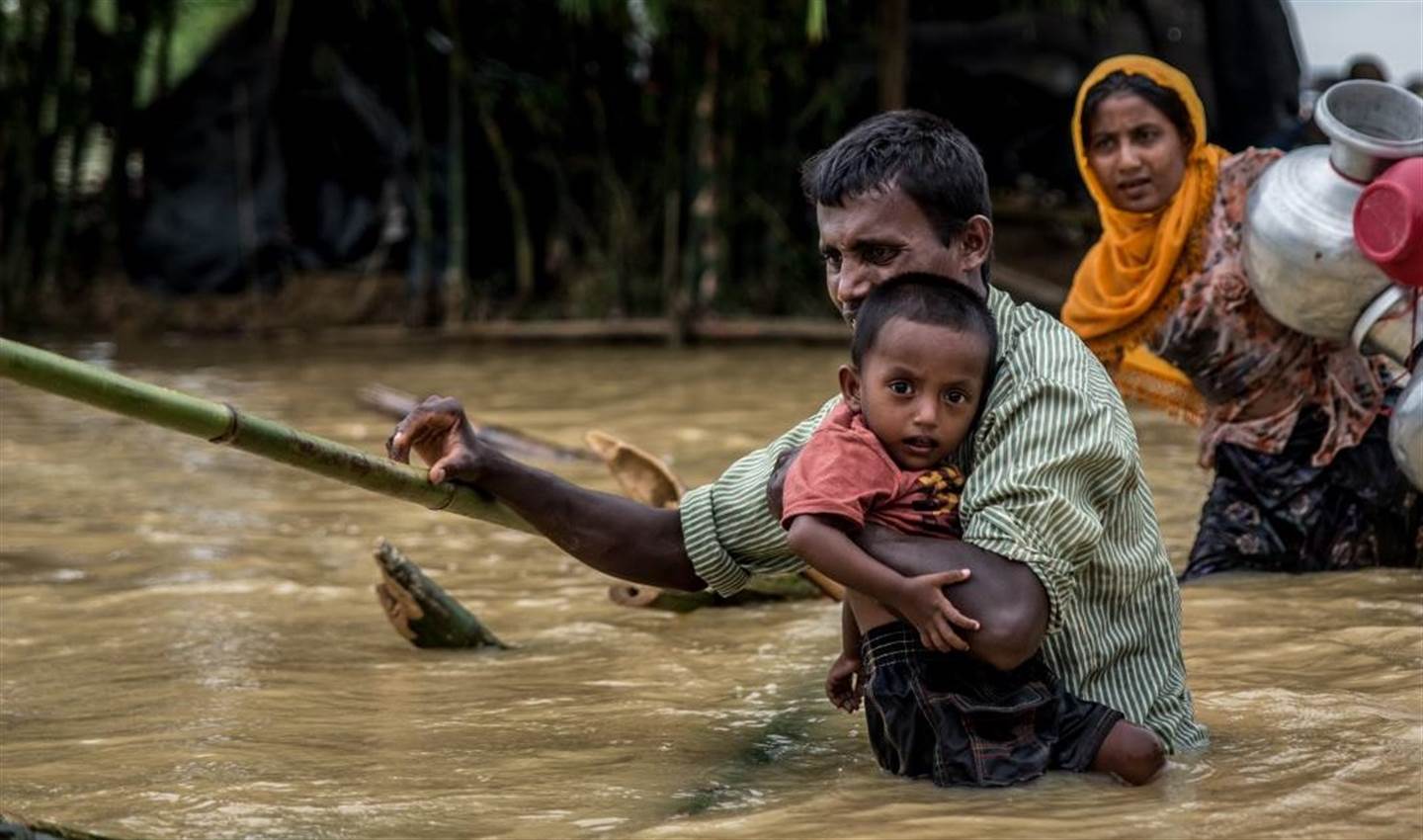 Foto: Aurélie Marrier d'Unienville
Empowering Local and National Humanitarian Actors (ELNHA)
Working towards a new humanitarian model, by empowering local and national actors in disaster-affected countries to take responsibility and leadership, for a more effective and appropriate humanitarian response.
THE CHALLENGE
The world is experiencing bigger and more complex natural and man-made disasters than ever before. The great majority of these disasters happen in developing countries. Our current humanitarian system is overstretched and underfunded and often unable to effectively and appropriately meet the needs of the people affected. The response, mainly led by the international community, is often insufficient, inappropriate, costly and late. Still, almost all funding goes to international organization and only 0,2% to national and local NGOs directly.
We believe in a shift of power and resources to local and national humanitarian actors (LNHAs). They are the first responders when crisis hits, know the local context best, are well connected to the affected communities and have the legitimacy to act. This makes them the best placed to provide timely, cost-effective and appropriate humanitarian assistance. We believe in a new humanitarian model that gives responsibility and leadership to local and national humanitarian actors.
THE PROJECT
ELNHA is a three-year project which focuses on strengthening the role of LNHAs in disaster-affected Uganda and Bangladesh. The high influx of refugees from neighbouring country South-Sudan and the high risk of drought puts a strain on Uganda. Because of its location Bangladesh is prone to natural disasters such as flooding, landslides, cyclones and river erosion. Both situations ask for a continuous and strong humanitarian response.
Please read the ELNHA Factsheet 
ELNHA Quality Funding Modality 
ELNHA Executive Summary and Management Response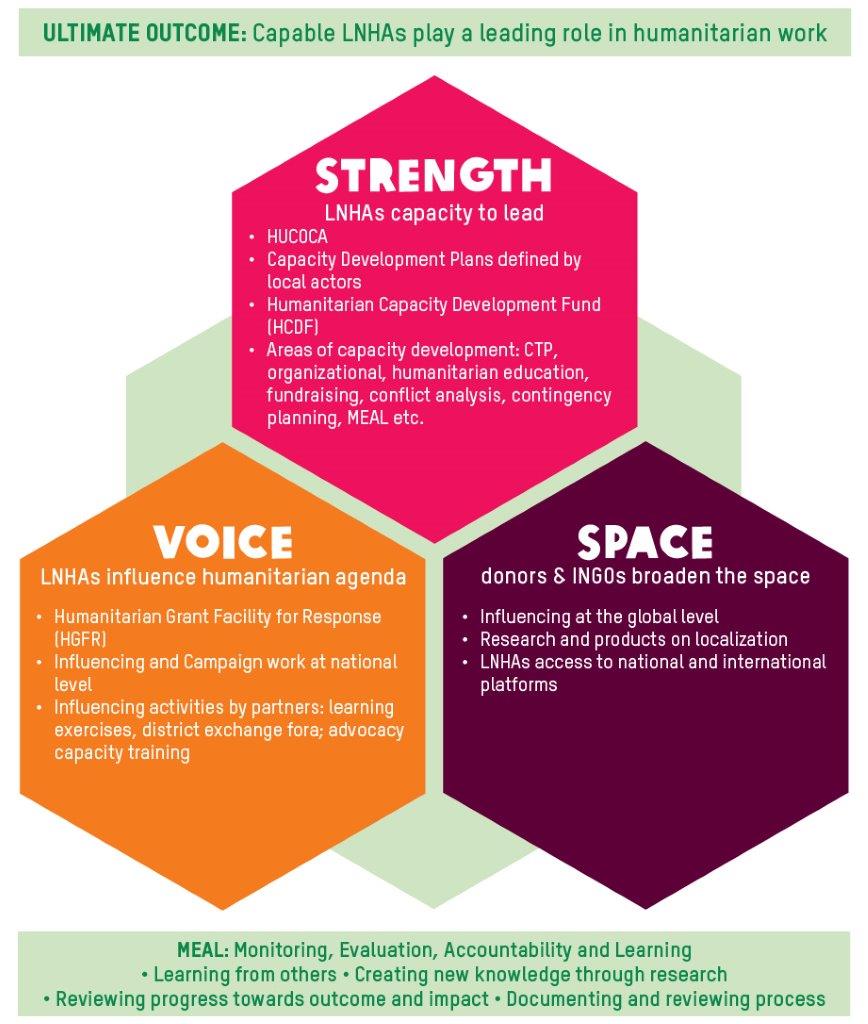 THE METHOD
Working with a wide range of stakeholders the project applies a holistic approach to achieve the envisioned change. It strengthens the capacity of LNHAs, gives them a voice in designing the humanitarian agenda and helps them advocate support from international humanitarian donors and NGO's for this change in leadership.
Strength: the focus of this component is on humanitarian capacity development. Local actors define a capacity development roadmap, based on a self-assessment of their organization and as a collective with other local actors in the district and at national level. The identified capacity needs are funded through the Humanitarian Capacity Development Fund (HCDF). ELNHA Capacity Development goes beyond one-off trainings or workshops but places a focus on modalities that are best fit to promote local and national capacity development to respond to humanitarian crisis. Capacity is also built through secondments, on-the-job learning, peer-to-peer learning, and pilot projects, as alternative modalities to workshops and trainings. 
Voice: is promoted both at the collective and organizational level. Strengthening coordination and collaboration amongst LNHAs in the district and at national level leads to stronger collective influence. Through the Humanitarian Response Grant Facility (HRGF), the Project seeks to provide individual LNHAs with the opportunity to demonstrate their ability to design and implement quality humanitarian projects. The ultimate aim is to increase their direct access to funding from donors.
Space: is created by ELNHA's influencing and engagement activities at the global level, getting international donors and INGOs to adapt their policies, strategies and systems to give more space to LNHAs. ELNHA also strives at acting as a role model, by actively supporting the participation of LNHAs representatives to global debate spaces whenever opportunity arises.
FACTS:
Project name: Empowering Local and National Humanitarian Actors
Project period: January 2016 – December 2018
Donor: IKEA Foundation
Target group: local and national humanitarian actors (LNHAs)
Location: Uganda and Bangladesh
Number of local actors engaged: 90 in Bangladesh and 60 in Uganda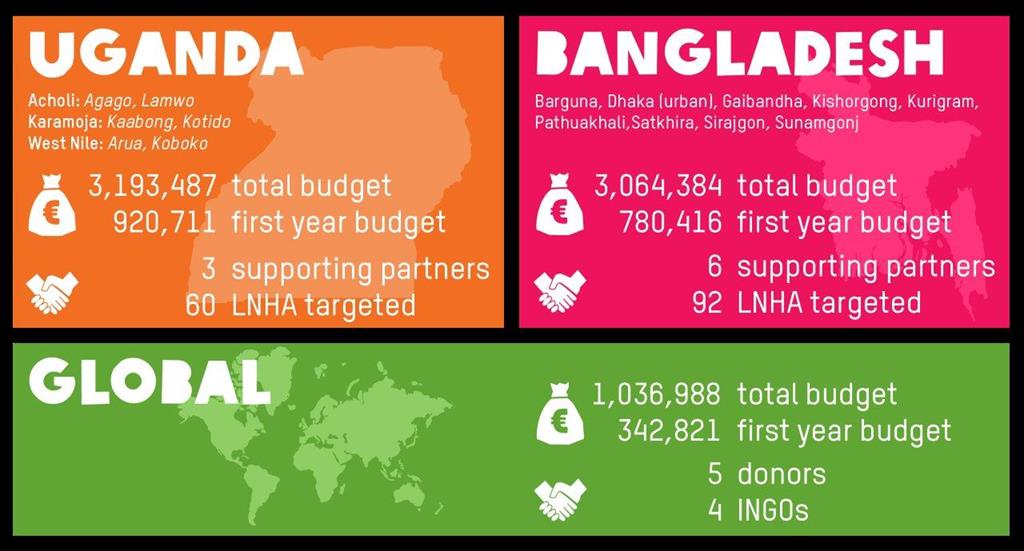 CONTACT:
For more information about this project, please contact ELNHA