Get Ready for B-Ready! - Oxfam Project Bridges the Gap Between Typhoon Preparedness and Financial Inclusion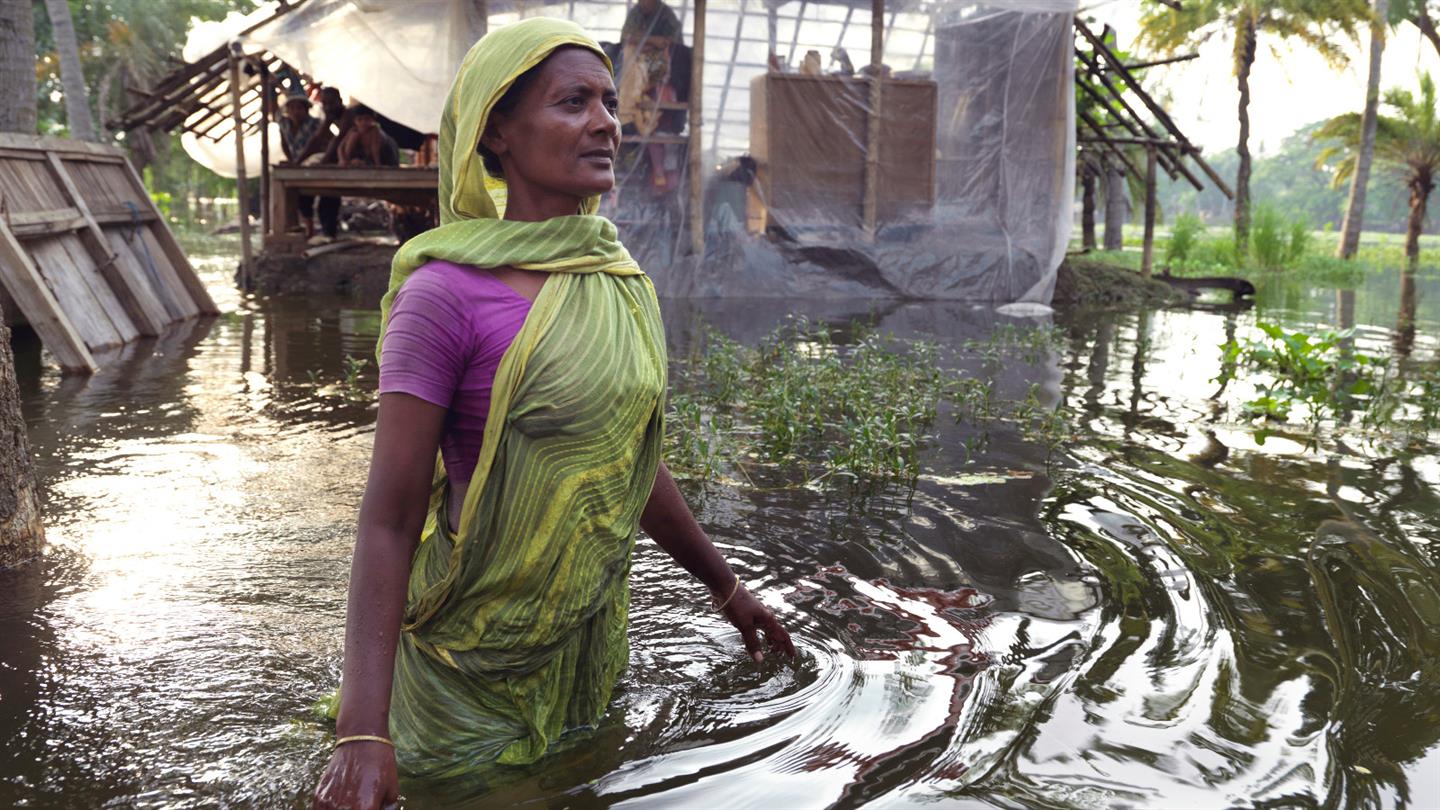 Natural disasters like typhoons, cyclones and hurricanes can cause unspeakable damage wherever they happen to strike. From flooded houses to collapsed buildings and from broken roadways to devastated water systems, the cost of a catastrophe can be measured largely by the damage it inflicts on the physical landscape and by the dollars and cents that are needed to build it all back. This reality has been well understood – and sometimes even quite well documented – since time immemorial; ancient seaside civilizations and the empires that ruled them frequently maintained rich written and oral histories of catastrophic climate events, passing down stories of the mysterious and unpredictable torrents of wind, waves and rain that wrought havoc on their cities from generation to generation. The earliest officially recorded tropical storm was documented in AD 816 by officials of the Tang Dynasty in China, and is described in archives as having ripped through and demolished the massive city walls surrounding Goami, a coastal city in Shandong Province. A typhoon, as the ancient Chinese historian Liu Xun described it in AD 890,
… can destroy houses and trees and is terrible. It can even blow away roof tiles like flying butterflies…  In autumn many typhoons occur. When a typhoon arrives before the tide goes down, the waves overflow onto the shore. Houses are thus flooded, crops washed away and vessels capsized… 
The Social Cost of Catastrophes
In the modern world, however, typhoons and tropical storms not only cause this familiar kind of indiscriminate physical damage to houses, trees and city walls, but can magnify seemingly unrelated socioeconomic disparities within human communities as well. Evidence shows that vulnerable populations such as women, children and people living with a disability bear the lion's share of the burden caused by major climate events; according to some studies, women and children can be fourteen times more likely to die during a natural disaster than men. And people living in poverty all over the world  – especially women and children – are disproportionately affected by major climate events in terms of injury, hunger and economic losses, when compared to their male counterparts or people of higher economic status in the same region. This is largely due to the mutually reinforcing relationship between natural disasters and poverty; a disaster can easily impoverish a community through the destruction it creates, and that community is thereby less able to protect themselves against future disasters that lie ahead. Indeed, disasters are both a cause and effect of poverty, and poverty is both a cause and effect of disasters. 
It should come as no surprise that historically marginalized groups such as women and children living in economically destitute situations tend to be more vulnerable to, and more affected by, major climate events than other comparable demographic groups. This fact is of special significance today, however, as the frequency and magnitude of natural catastrophes continues to rise, especially within developing regions like costal Africa and Southeast Asia, where increases in the temperature of the ocean surface and sea subsurface have been linked with increased typhoon activity. Recent studies have demonstrated a staggering increase in rainfall rates and rainfall intensity during modern typhoons, as well as in the overall frequency of tropical cyclones in general over the past half century, which exacerbates the negative effects of parallel phenomena such as global sea level rise and sea temperature rise around the world. The social cost of catastrophes – paid largely by impoverished women and children – is increasing drastically as typhoons themselves become stronger, longer and more frequent. Something should really be done about it.
What Oxfam Novib is Doing About It
As the effects of global climate change continue to increase in severity and visibility all over the world, the humanitarian response to those natural catastrophes magnified by climate change must too increase in reach, impact, scale and timeliness. In an effort to provide innovative, forward-thinking and cost-effective humanitarian aid solutions to the victims of tropical cyclones in Southeast Asia, Oxfam Novib has partnered with Plan Nederland, Oxfam Philippines, Plan Philippines and private sector partners Visa, Global Parametrics and PayMaya to introduce the B-Ready (Building a REsilient, Adaptive and Disaster-Resilient CommunitY) Project, in hopes of promoting disaster resilience for women and children living in low-resource communities in the Philippines.
How does the B-Ready Project help protect vulnerable women and children from typhoons?  By combining two groundbreaking innovations being spearheaded by Oxfam Novib in the areas of humanitarian aid and cash transfer programming: 1) the ability to accurately predict the impact of catastrophes, specifically typhoons, and 2) the ability to instantly transfer life-saving financial resources (read: cash) to those in harm's way. The combination of these two innovations – being able to foresee typhoons before they happen, and the ability to send money to people whose lives will be affected – is the technological bedrock upon which the B-Ready Project is founded.
What exactly does the B-Ready Project Do?
In a nutshell, the B-Ready Project sends digital cash to people who will be affected by a typhoon weeks before that typhoon ever takes place. This pre-disaster money can be used to prepare for the storm far in advance and will help reduce the amount of physical damage, human injury and mortality a community experiences by increasing their awareness of, and preparedness for, typhoons. Think of it as a crystal ball that predicts exactly when and where a typhoon will strike, and then magically puts money in the pocket of those in harm's way. But it's not magic: it's science! 
Here's how it works: Plan Philippines identifies 2,000 women who are deemed particularly vulnerable to typhoon risk, based on factors like the location of their home, economic status, etc.  These women attend disaster preparedness workshops and financial literacy trainings before receiving an Oxfam/Visa debit card in preparation for the upcoming typhoon season. Utilizing an innovative technology that predicts weather patterns based on combinations of easily measurable environmental indicators (wind speed, ocean surface temperature and humidity, for example), the social enterprise Global Parametrics identifies an incoming typhoon before it touches ground. When the indicators signal the likelihood of a typhoon striking a given community, an electronic cash transfer is automatically triggered through the PayMaya digital financial services platform, and the community members receive cash on their Oxfam/Visa debit card. They are then able to use that money to prepare for the storm using the knowledge they have gained through the disaster preparedness workshops that they attended earlier in the project. Depending on the situation, they can choose to reinforce their homes, purchase emergency food and medical supplies, relocate their fishing boats storage facilities, or evacuate their families to safety. 
The B-Ready Project received €610,000 in grant funding from the Dutch Relief Alliance in August of 2018, with additional contributions from Plan Nederland (€22,000) and the Oxfam Novib Innovation Fund (€30,000). Operations will begin in the Eastern Visayas region of the Philippines at the end of 2018 and last for two consecutive years, offering 2,000 vulnerable households located in 5 communities in the Eastern Samar Province unconditional cash transfers, financial literacy training and disaster preparedness information specifically geared towards typhoon preparedness.
Why Cash Transfers?
Recent academic research and scholarly reporting on the global humanitarian activity of cash transfer programming has found both conditional and unconditional cash transfers to be incredibly cost-effective tools for achieving maximum impact in complex humanitarian situations. The success stories surrounding this strategy abound, and we see examples of favorable outcomes from the Middle East to Africa and Latin America, spanning most all thematic areas from child nutrition to tuberculosis prevention and gender equity. The conceptual advantage of cash transfer programming is that cash can empower the target population to make important decisions for how to meet their own needs by using locally available resources in  complex and often chaotic crisis situations. This practice not only adds to the dignity and agency of the target population, but streamlines the humanitarian process for governments and NGOs, creating a more cost-effective and ultimately more high-impact delivery of aid. It also decentralizes the aid process and can help stimulate local markets and benefit the host economy. In the case of B-Ready, the digitization of cash transfer programming also adds to the timeliness and safety of the delivery process, which is of critical importance in a high-risk situation like a natural disaster.
Why Preparedness?
The benefits of disaster preparedness over disaster relief cannot be overstated. A recent report from the National Institute of Building Sciences found that for each dollar spent on disaster preparedness, governments, NGOs and society save six dollars in disaster relief.  That means that pre-disaster preparedness investments are six times more effective at reducing human and economic losses than traditional, post-disaster response and relief investments. We live in a world where disasters are demanding increasingly more funding, attention and investment from governments and aid organizations alike. Global disasters cost over $306 billion in 2017, which represents a shocking twofold increase over the cost of natural disasters in 2016. Innovative strategies to mitigate risk and properly prepare for the shocks caused by major climate events are indispensable to any disaster risk reduction plan. Preparedness activity also presents the advantage of stimulating market activity by creating new jobs and businesses that are centered around disaster preparedness. Oxfam Novib will fund research into the development of these models.
The Larger Vision: Disaster Preparedness as a Pathway to Financial Inclusion
The B-Ready Project has a larger strategic trajectory that reaches far beyond the two years of this particular program in the Philippines. With a vision of transitioning some of the responsibility for disaster risk reduction from the public/nonprofit sectors to the private sector, Oxfam Novib and its partners are advocating the creation of a variety of innovative financial products that would cover communities who are plagued by frequent natural disasters. This is a very crucial step towards ensuring that disaster risk reduction is both financially and operationally sustainable. 
In the current state of affairs, governments and NGOs coordinate efforts to use tax money, donations and grants to fund disaster relief and recovery activities. This current model, referred to by some as the 'begging bowl' approach, is suboptimal for two reasons: 1) it is financially unsustainable (once those donations, grants and tax dollars are spent, they are gone forever), and 2) because it is focused on cleaning up the damage of the disaster after it happens, instead of preparing for it before it takes place. But the private sector could  play a role in disaster risk reduction by providing disaster-focused financial products like savings accounts, preparedness loans and even insurance products to protect clients against the risk of disasters in vulnerable communities. This would have huge implications for the state of the humanitarian sector, because the burden of responsibility would shift away from governments and NGOs (as well as the citizens who contribute their tax dollars and donation money to these institutions) and instead towards traditional financial institutions like banks, who are more capable at providing financial services at scale than governments and NGOs, and who have access to plentiful injections of capital when an adequate business case is made available. So, what would disaster-focused financial products look like? 
Disaster Savings Accounts
This one would actually be quite easy, and is envisioned as being part of the transition that occurs between the B-Ready Project and future financial inclusion vis-à-vis disaster prevention financial products. Project beneficiaries are encouraged to save a small percentage of the cash transfer they receive on their card in order to normalize the act of saving part of their incomes to protect against natural disasters. Their debit cards effectively become emergency savings accounts that they can load with more money to be saved for withdrawal the next time a typhoon warning is issued. 
Disaster Preparedness Loans
Disaster recovery lending has been tested in the Philippines, Kenya, Malawi and Zambia by Vision Fund International with a great deal of success in recent years. Reports show that recovery loans (read: loans issued after a disaster takes place) can have positive impacts on impoverished households by reducing the use of negative coping strategies such as defaulting on loans, taking children out of school, reducing food consumption and sending family members away for labor in order to sustain their livelihoods. But still, this all happens after the occurrence of a disaster, and does little to stimulate preparedness. Utilizing the innovative climate modeling technology of Global Parametrics, however, Oxfam Novib hopes to spearhead the creation of disaster preparedness loans, which would take the place of the B-Ready Project's grant-based cash transfers and offer a more financially sustainable solution to disaster preparedness financing. The financial sustainability of this type of model would provide a legitimate business case for banks and other financial institutions to justify entering the market and providing much-needed loans to vulnerable communities.
Disaster Insurance
Natural disaster insurance is enacted through a practice termed disaster risk finance. In practice, disaster risk finance essentially creates a risk pool – much in the same way as car insurance company – that can cover the contingent liability (or the liability posed by an 'uncertain but likely' future event, like a typhoon) of disaster-prone communities in any given year.
Think of is as working like car insurance for typhoons, where a vulnerable community is the car and the typhoon is an unforeseen head-on collision. In this model, vulnerable communities pay a regular membership fee to a risk pool – or a reserve of money made up of many communities' membership fees – in order to have access to resources when a disaster happens to strike their area. When the 'uncertain but likely' head-on collision (read: typhoon) does eventually happen, the car owner (read: vulnerable community) is not immediately liable for the full cost of the incident, because they have bought into the risk pool over the course of many – mostly typhoon-free – years. They are able to access a great deal more money to finance their disaster risk reduction activities than they would have if they were not part of the risk pool. In this way, everyone in the risk pool wins.
This type of insurance-like risk-transfer product functions far more effectively than traditional risk-retention products like earmarked disaster contingency funds owned by governments (read: a barrel of money intended for one communities' disaster relief), in the effort to remove the financial volatility caused by natural disasters. Add to this scheme the ability to predict the onset of major climate events through the analysis of the various aforementioned environmental indicators (wind speed, ocean surface temperature, etc…), and you have a very predictable and robust disaster preparedness strategy that improves community resilience by at least an order of magnitude. 
In the B-Ready project, Oxfam Novib will start developing a vision on how to operationalize it in the Philippine context. Micro-insurance is widely regarded as one of the most complicated issues in the microfinance sector with important questions regarding how to scale-up and how to make it sustainable. The Philippine insurance company CLIMBS will explore this field of operations.
Moving Forward
By using the grants-based B-Ready Project as a pathway to a more financially sustainable, market-based, disaster risk finance solution for typhoons, Oxfam Novib and its partner organizations are truly innovating the field of humanitarian aid, disaster relief and resilience. It is the hope of Oxfam Novib's Transparent and Accountable Finance Team and Humanitarian Unit that the B-Ready Program will revolutionize the disaster preparedness and cash transfer programming space for years to come, and have a serious and lasting impact on the way in which we deal with disasters. It is our deeply held conviction that the provision of preemptive disaster-related financial products will not only reduce the human and economic costs of natural disasters for the most vulnerable members of society, but also fill a gap in the market, constitute a legitimate business case for the financial sector and work for both the climate resilience of impoverished communities and the health and growth of an economy in which all global citizens can take part.
For More Information
The B-Ready Project will be managed by the Transparent and Accountable Finance Team at Oxfam Novib. For more information, please contact Bruno Molijn (bruno.molijn@oxfamnovib.nl).
---
---
Notes:
 Louie, Kin-Sheun, and Kam-Biu Liu. "Earliest Historical Records of Typhoons in China." Journal of Historical Geography, 2003.
 Ibid.
 Peterson, K. "Reaching out to Women when Disaster Strikes." Soroptomist White Papers, 2007
 Anderson, Mary B. "Mitigation, Benefits and Costs Of." Encyclopedia of Disaster Relief, 1990.
 "Global Warming and Hurricanes An Overview of Current Research Results." GFDL - Geophysical Fluid Dynamics Laboratory, www.gfdl.noaa.gov/global-warming-and-hurricanes/.
 Rawlings LB, Rubio GM. Evaluating the impact of conditional cash transfer programs. The World Bank Research Observer. 2005;20(1):29–55.
 Fenn, Bridget, et al. "The REFANI Pakistan Study—a Cluster Randomised Controlled Trial of the Effectiveness and Cost-Effectiveness of Cash-Based Transfer Programmes on Child Nutrition Status: Study Protocol." BMC Public Health, vol. 15, no. 1, Dec. 2015, doi:10.1186/s12889-015-2380-3.
 Handa, Sudhanshu, et al. "Targeting Effectiveness of Social Cash Transfer Programmes in Three African Countries." Journal of Development Effectiveness, vol. 4, no. 1, 2012, pp. 78–108., doi:10.1080/19439342.2011.641994.
 Fernald, Lia C.h., and Melissa Hidrobo. "Effect of Ecuador's Cash Transfer Program (Bono De Desarrollo Humano) on Child Development in Infants and Toddlers: A Randomized Effectiveness Trial." Social Science & Medicine, vol. 72, no. 9, 2011, pp. 1437–1446., doi:10.1016/j.socscimed.2011.03.005.
 Leroy, Jef L., et al. "The Impact of Conditional Cash Transfer Programmes on Child Nutrition: a Review of Evidence Using a Programme Theory Framework." Journal of Development Effectiveness, vol. 1, no. 2, June 2009, pp. 103–129., doi:10.1080/19439340902924043.
 Torrens, Ana W., et al. "Effectiveness of a Conditional Cash Transfer Programme on TB Cure Rate: a Retrospective Cohort Study in Brazil." Transactions of The Royal Society of Tropical Medicine and Hygiene, vol. 110, no. 3, 2016, pp. 199–206., doi:10.1093/trstmh/trw011.
 "Cash-Transfer-Programmes-Poverty-Reduction-and-Empowerment-of-Women-a-Comparative-Analysis-Experiences-from-Brazil-Chile-India-Mexico-and-South-Africa;Hr." Human Rights Documents Online, doi:10.1163/2210-7975_hrd-4022-3028.
 "National Institute of Building Sciences Issues New Report on the Value of Mitigation - National Institute of Building Sciences." Natural Hazard Mitigation Saves: 2017 Interim Report - National Institute of Building Sciences, www.nibs.org/news/381874/National-Institute-of-Building-Sciences-Issues-New-Report-on-the-Value-of-Mitigation.htm.
 Shepherd, Marshall. "The Cost Of Weather-Climate Disasters In 2017 Was $306 Billion -- What Could You Buy With That?" Forbes, Forbes Magazine, 10 Jan. 2018, www.forbes.com/sites/marshallshepherd/2018/01/09/cost-of-weather-climate-disasters-was-306-billion-in-2017-what-could-you-buy-with-that/#5687f38371ed.
 Clarke, Daniel J., and Stefan Dercon. Dull Disasters?: How Planning Ahead Will Make a Difference. Oxford University Press, 2016.
 "Recovery Lending in Africa." VisionFund Improves the Lives of Children in the Developing World by Offering Small Loans and Other Financial Services to Families Living in Poverty. | VisionFund International, www.visionfund.org/2430/recovery-lending-in-africa/disaster-resilient-microfinance/microfinance/.
 Clarke, Daniel J., and Stefan Dercon. Dull Disasters?: How Planning Ahead Will Make a Difference. Oxford University Press, 2016.