Fighting inequality around the world
Eight men own the same wealth as the 3.6 billion people who make up the poorest half of humanity. You probably have noticed: Oxfam highlighted the fact that the gap between rich and poor is far greater than we have ever feared.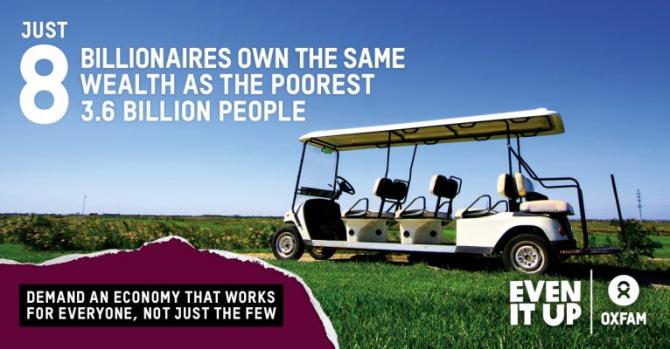 Our fight against inequality plays a key role in Somo and Oxfam's Strategic Partnership with the Dutch government. We do that by building on each others strengths, working together as partners, each playing a key role in delivering on our ambition: a joint global influencing network.
But it's not Somo and Oxfam alone: we do that by working in coalitions and with partners around the world. Most importantly building on stories and examples from developing countries. Like the story of Oanh, a 27-year-old kidney dialysis patient who lives in Hanoi with her partner, Vinh. Oanh had to leave her family home in the rural areas to move to the city for the hospital treatment she needs three times a week. She can't afford a kidney transplant.
Oanh campaigned with other dialysis patients for an increase in health cover. The government health insurance now covers the basic cost of her dialysis but Oanh must still pay for the medicines not covered by her health insurance, which she needs to take every day.
Each year thousands of Vietnamese families are forced to take out loans and sell assets in order to pay for healthcare. In 2014 around 580,000 Vietnamese households were pushed into or further into poverty due to health expenditures.
Despite that, the fact is that public spending on health has increased, only it tends to favour the rich. Progressive public expenditure on communal health centers accounts for a much smaller share of total spending, while hospitals and subsidies for healthcare for wealthier citizens are much larger.
We believe inequality can be reduced if governments increase budget allocations to services for the poorest and other disadvantaged groups. We know that fairer tax policies, sharing the burden between the haves and the have-nots, can reduce inequality.
That is why the inequality campaign on Monday wasn't only launched in The Hague, Oxford and Washington. It was launched around the world: from Islamabad to Kampala, from Ouagadougou to Abuja, from Sao Paulo to Hanoi.
In Vietnam, Oxfam and partners launched their campaign yesterday. Apart from receiving a lot of positive feedback, there was a commitment/willingness to join the campaign follow up activities in the future. There was interest from media and invited representations from Ministry and Social Affairs Department/National Assembly.
People were impressed with the way we present and discuss/dialogue with strategic partners (policy makers and activists) about inequality in Vietnam, and also provide them with a larger picture, being part of a global campaign, that builds on strong analysis rooted in local influencing work. We will keep that inspiring spirit.
I would like to end with a quote of my Vietnamese colleague Huong: "If healthcare equality is not addressed, many more people will fall into poverty. It goes against the government objective to reduce the poverty rate and to ensure universal healthcare for all. It will also create social injustice and social unrest and people will lose trust in the government and government systems. It is a fact that companies do not pay their fair share of tax. It means that the government has less money for public services - especially healthcare. Now is the time for change. The government can improve tax collection, so they can have more resources to invest into the health systems, to ensure the tax policies are taxing the right people with the correct percentage of tax."
If you have the time, please take a minute to sign this letter to the world's billionaires.
Thank you for your support.
Stefan Verwer
Stefan is the Head of Oxfam Novib's Even it Up! campaign and leads our work on fairer taxation and greater budget spending for essential services. He is currently the convenor of F.A.I.R. – Even it Up! (FAIR: Fiscal Accountability for Inequality Reduction); a global program to scale up Oxfam and our partners' influencing, programming and campaigns work on fiscal justice with the goal of reducing inequality.