Because I think that others do… diagnosing, measuring and tackling social norms on societal issues in development cooperation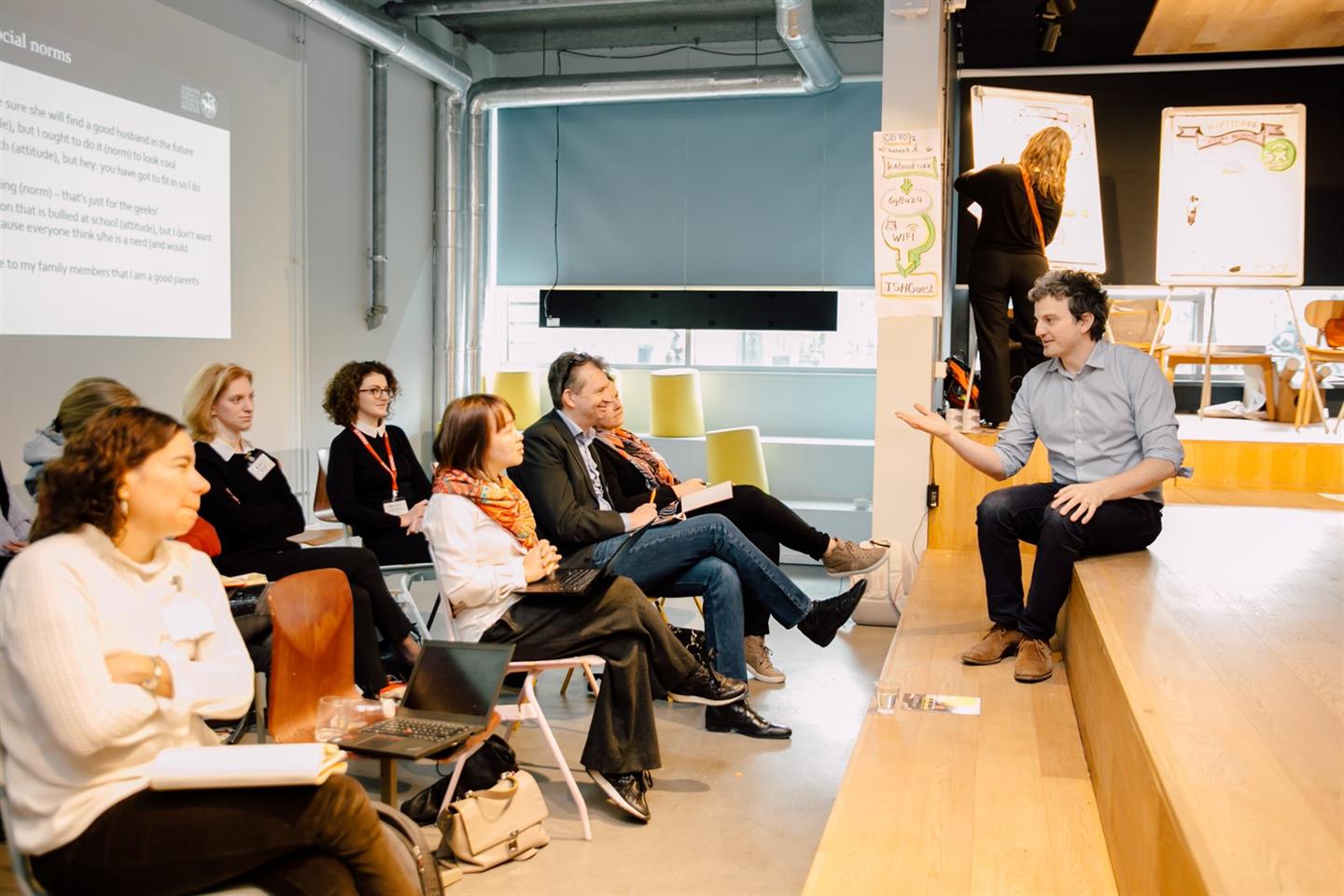 Social norms are at the heart of social change; Social norms act as informal social laws to regulate behaviour within a given social group. Hence, evaluators in the development and humanitarian sector are more and more interested in measuring social norms and identifying social norms change.
Oxfam Novib's annual Expert Meeting "Because I think that others do…", organized on the 18th of March 2019, focused on diagnosing, measuring and tackling social norms on societal issues in development cooperation. The meeting brought together more than 40 professionals from a variety of organizations who were eager to expand their knowledge on diagnosing and measuring the evolving strength of social norms. Experts presented successful examples of how social norms can be diagnosed and how changes in social norms can be measured. Participants jointly explored how knowledge on social norms can be formative as well as evaluative for programmes and campaigns in development cooperation.
Definitions for social norms research
Social norms = rules of behaviour shared by members of a group or society, held in place by empirical and normative expectations and often reinforced by social sanctions

Empirical expectations = People's beliefs about what others do

Normative expectations = People's beliefs about what others think should be done

Social sanctions = Positive or negative responses or reactions by others to the behaviour of an individual

Reference groups = The others whose behaviour and opinions matter in shaping a person's normative expectations.
The day kicked-off with an inspiring talk by Ben Cislaghi - Assistant Professor on Social Norms - Centre for Gender, Health and Violence, London School of Hygiene and Tropical Medicine - about introducing the concept of social norms in general. He showed how we all act according to social norms, for example no one wants to be the odd one out. He also presented eight common pitfalls NGOs encounter when working on social norms, showing the difficulties in engineering a change in social norms. Participants then heard directly from experts working on social norms to explore how to employ innovative ideas and enjoyed networking in nine informal workshops.
The ideas presented showed that social norms are an important aspect of social change, as foreseen in the development and humanitarian sectors. Participants learned about and explored ways of measuring social norms – such as different types of experiments, using vignettes, survey questions on social norms, and other aspects of measurement – that can help to give insight into social norms change. Participants also made connections with other experts who can help them utilize these measurements in their own work. A final key message was that changing norms can only happen from inside: development practitioners cannot simply make people adopt new behaviour based on theoretical insights. We need to work from the existing social and cultural context to intrinsically motivate communities to change.
Major challenges that remain were also discussed, such as the legitimacy of NGOs working on social norms change and the complexity of changing human behaviour in the real world where nothing happens in isolation. The Expert Meeting provided fresh ideas, new connections and inspiration to provide concrete approaches to measurement and in-depth reflection on the ethical dilemmas related to social norms change.
The full programme of the day can be found here. A short impression per session can be accessed below. All presentations are accessible in this folder.