Blog: Just leaders, stand up
Farah Karimi, director of Oxfam Novib, travelled to the Greek island of Lesbos to help refugees. What she heard and saw, hurt. She saw a frightened world with frightened leaders. A world more than ever in need of just leaders.
Several Dutch churches have a tradition of a layman or laywoman giving a sermon on an issue of concern. Recently Oxfam Novib's Executive Director, Farah Karimi, gave such a sermon. It was turned into a blog placed on Oxfam Novib's website. This is the English translation of that blog.
My first meeting with a refugee, fleeing war, was almost 35 years ago. In a park in Tehran I got talking with an eleven-year old girl. She was in Tehran with her parents, brothers and sisters. The family was from Khuzestan Province in the south of Iran. They had fled the war between Iran and Iraq. They and many other refugees were sheltered in a half-built flat around the corner from my parents' home. Shortly afterwards I met a group of young Afghan men, who had fled their country after the Soviet Union's occupation and were seeking security in my motherland, Iran.
Two years later I myself was a refugee. My flight from Iran took me through Iranian Kurdistan. I was on the run and I was pregnant. I could see the pity in the eyes of the Kurdish women who saw me and my big belly on the road. In addition to their hospitality they also had advice to offer: 'Name your child Avareh', they said. Avareh means 'the displaced'. My son is called Homam, which means 'free human'.
Living on a street corner
I have since met many refugees. In Pakistan, Congo, Darfur, South Sudan, Uganda, Palestine, Lebanon, Jordan and in the Netherlands. The shelters are usually dismal. The half-built flat around the corner from my parents' home in Tehran, to me symbolizes those barracks, tents and street corners where refugees must live.
This weekend I returned from Greece. I had been on Lesbos and saw hundreds of men, women, children babies on the run. I heard many story. Some people had been on the road a long time, others less. Old and young. Health and sick. But they had one thing in common: they had endured fear and danger. Risked everything. Braved the cold and unpredictable sea to reach their destination. To reach Europe. To feel safe. To build a better future for their families and children. Their reception on Lesbos was anything but friendly and the conditions are atrocious. Yet relief dominated; to have made it. And the hope for better times is palpable everywhere.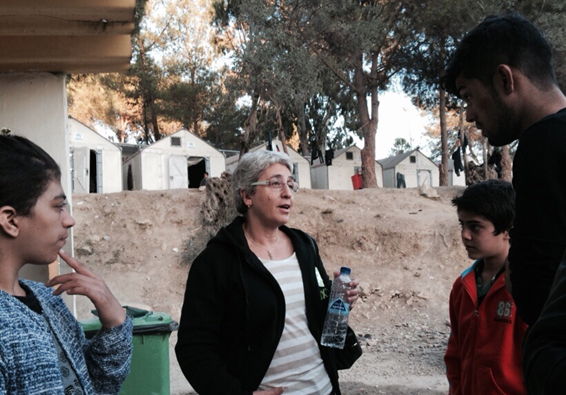 Talking with an Afghan refugee, in Farsi, the language we have in common. Photo: Oxfam Novib. 
One experience since my first meeting with a refugee has not changed. In fact, it is a constant in the history of humanity. Fleeing is not a choice. War, tyranny, exclusion and injustice force people to flee.
In Greece I saw many children and babies now displaced. They deserved to become free people.
Dehumanizing conditions
We live in times of confusion. It seems as if there are no certainties left we can count on. During my visit to the refugee camps in Lesbos I again and again hear the same question: why? And: what to do?
Despairing refugees, who after a dangerous journey are sheltered under dehumanizing conditions by the richest countries in the world, ask why so few understand their plight. Why so many would rather see them leave again? Back to war zones and the tyranny they had escaped?
Hoda is a Syrian woman, exhausted with a one-month old baby, waiting to get registered. She did not know if, and if yes when, she would be reunited with her husband in Germany.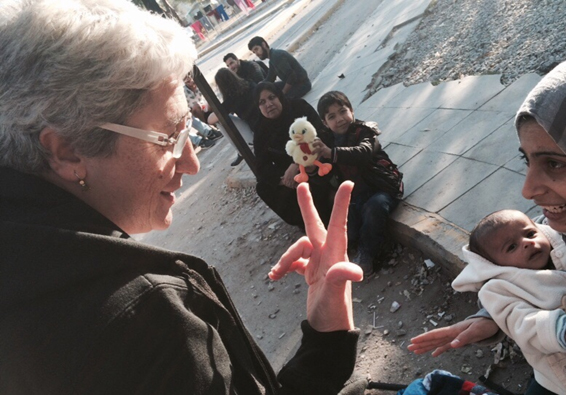 Hoda and her son Mari do not know if they can join their husband and father in Germany. Photo: Oxfam Novib 
Another young Syrian woman with two children had arrived two hours earlier. Relieved, but still unable to comprehend that she had made it. Her husband had died in the bloody Syrian civil war. Both women asked how long I thought the world would stand by as Syria was engulfed in cruelty. They considered their own suffering small compared to what was happening in their country. Why is no one stopping the bloodletting? Where are the leaders standing up for peace?
Afghan Hamid and his family of nine had left Kabul almost forty days ago. They travelled to Greece via Pakistan, Iran and Turkey. Hamid wants to know why the world does not understand that after 35 years of foreign interventions the country is sick to the bone, wounded, distrustful and hopelessly divided. His country is still the hostage of extremism and brutal violence. Hamid and his family had to leave because  his life there is so insecure. No future and no perspectives for the children. Why does no one take responsibility for the consequences of a situation to which so many have contributed?
Why does no one take responsibility?
Many civilians, volunteers and aid agency staff, like my colleagues, are trying to bring order to the chaos on Lesbos and alleviate the suffering of hundreds of thousands of people. They ask loud and clearly: what can we do to change this intolerable situation? Why are there no leaders who take responsibility and point the way to putting things right?
We live in times of confusion and uncertainty, but distrust dominates. Shared values have been affected to the core. At times when violence and terror strike everywhere, when greed and egotism are the new 'virtues' to many people. In these confusing times when hate mongering is considered freedom of expression. In these time when we need wise, connecting and inspiring, just leaders more than ever!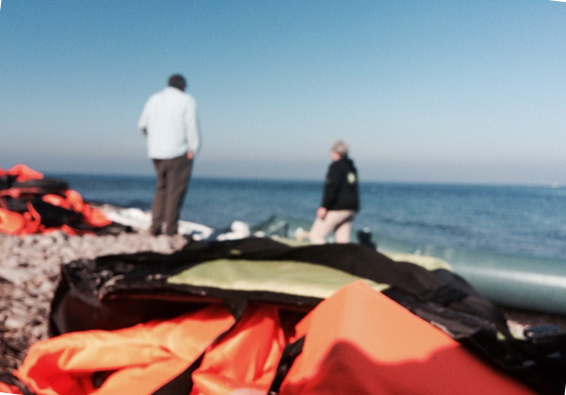 Lifejackets on the beach are silent witnesses of what leaders now allow to happen. Photo: Oxfam Novib
Where are the leaders?
Where are the just leaders who take a stand for refugees and say that migration is of all times? New countries, societies and continents were built and thrived, brought to great heights by migrants.
Where are the leaders who say that force migration is always unwanted? Being forced to flee hurts. Exile is loss.
Who explains that wars and human rights violations force people to flee? That after the biggest horror of our days, the Second World War, we agreed as civilized people that refugees and victims of violence and persecution have a right to protection!
It is a scandal that in recent years over 31,000 people have died or gone missing on their way to Europe. On their way to safety and a better life. We should have prevented that.
Which political leader stands for finding safe ways of letting people in need of protection come to us?
Which leader states that we must stand by our civilization, which we measure by the way we deal with the vulnerable, our elderly, our children, the weak in our societies, and with the displaced in need seeking our protection?
Where are the leaders who take a stand and say that we lived in the richest and safest countries in the world? That our prosperity cannot be protected by erecting high walls? No, the best way to protect our life-style is to promote safety and prosperity elsewhere in the world.
Which leader explains that dropping bombs only makes the situation worse? They feed resentment and hatred. A war has never solved a problem.
I seek and find so little to give me hope. I seek and find many frightened leaders. I look around me and see so many rat-catchers, and so few just leaders.
Is it too much to ask of our leaders to stand up and take responsibility in these uncertain and confusing times?
Author: Farah Karimi