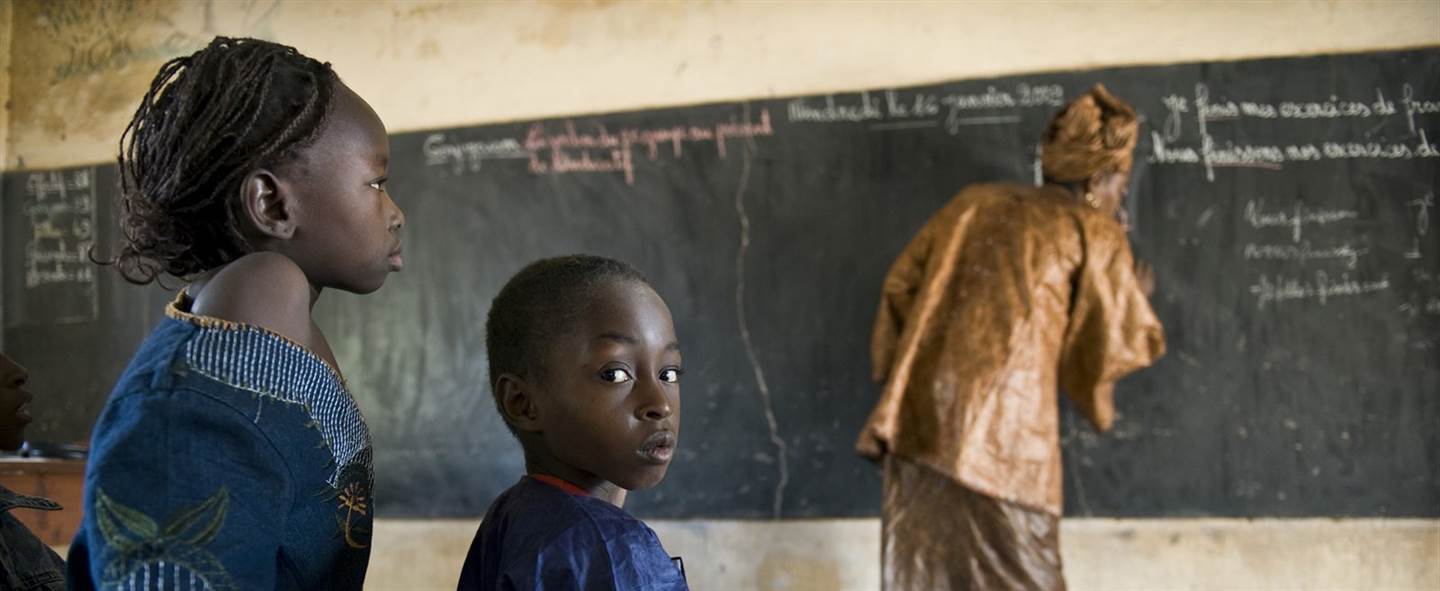 Quality Teaching in Mali
The "Quality Educators for All" program is improving students' achievements by investing in the quality of teachers. The second phase of this program focuses on improving teaching and learning at lower secondary education.
Within the scope of available data Mali is ranked one of the lowest quality education systems (110 out of 113) in the world (EFA Global Monitoring Report 2015). Despite significant progress in terms of access to primary education, 800.000 of the children are not in school. Children completing the school cycle do so without acquiring the basic reading, or the specialized skills to enter the workforce or continue their education. The poor learning outcomes are mainly a result of the shortage of professionally trained teachers with relevant skills, knowledge and competences. On lower secondary level only 50% of teachers are qualified from Teacher Training Institution. Oxfam Novib and Education International with the help of Comic Relief have joined forces to improve the quality of the education system. Our first project (2012-2015) was focused on the professional competences and acceptance in public system of primary community school teachers. This second phase will take these lessons learned and good practices and focus on improving student learning at lower secondary education.
Our experience and that of our partners has shown that children receiving quality education will have better opportunities to decent jobs and will participate actively in their society. Factors to improve the education received include: Quality teachers with improved teaching skills and knowledge, particularly on girls education and technical and life skills; Consensus-based teacher competence profile (CP) that informs teacher training and further professional development; Teachers that receive quality pre- and in-service training through improved training modules. The project will take the mobile telephone development as an opportunity to innovate in-service teacher training and will develop some modules to be used on SD cards. Development of new modules for teacher training and where possible digital modules by the government in partnership with teacher training institutes, civil society and teachers; Being in the public system will also give informal teachers access to in-service training and improved salary.
 
Facts
Project name: A quality teacher for every child in Mali
Project period: 1 February 2016 – 31 January 2019
Target group: Teacher trainers, and students of primary and lower secondary education
Location: Ségou region, (districts Ségou and San), Mali
Budget: 1.5 million EUR
Contact persons
Details
URGENCY
Popular expectations about the right to education are no longer satisfied simply by increasing access to schooling. The public rightly demands education that truly educates, and that requires quality educators.
Every good teacher benefits an entire class, year after year. Ensuring that all students in low income countries leave school with basic reading skills would make a significant contribution to lifting people out of poverty.



PROJECT
The project focuses on primary education and wants to achieve sustainable impact at lower secondary education level. That the quality of the education system is the responsibility of the Ministry of Education is the main principal of the project which has the following strategies, based on best practices of last project: joint development of the material; training of trainers approach from teacher trainer down to teachers and implication of school management committees and parents; research and evidence based advocacy and social accountability.
Results at primary education of the previous project will be capitalized and replicated to improve lower secondary education. A second outcome will be to hold the government accountable to take its responsibility to train and certify all community school teachers and to integrate the innovations into existing teacher training institutes. Thirdly, we will strengthen capacity of pedagogical supervisors, parents associations and school management committees to monitor teacher performance in the classroom, and strengthen capacity of education authorities to assess the level of students' performance and their skills to participate in society. We will also put in place the assessment of parents' satisfaction of teacher performance.
IMPACT
The project aims to contribute to quality public education by assisting public authorities in meeting their responsibility to equip schools with well-trained educators, and showing them different methodologies for doing so.
 
READ MORE