strategy
Oxfam Novib is set apart by the strength of its commitment to build the capacity of its civil society organisation partners in developing countries – not only providing grants and loans, but working with them to help them become more effective, and connecting them to other organisations which can help them achieve their goals.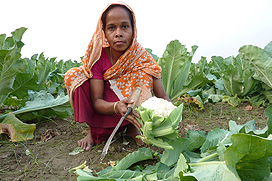 Foto:Oxfam Novib
We also recognise the importance of engaging constructively with governments, the private sector and other agencies which stand on the other side of the power divide from the poor and marginalised. Often with other Oxfams, we lobby these organisations to change policies and practices that impact on the lives of the poor.
underlying our strategy are three central beliefs:
Empowerment: the poor, oppressed and excluded can be helped to mobilise and organise to challenge unequal power relations and achieve social change;
Accountability: government, civil society organisations, the private sector and international institutions should take responsibility for their actions and be held to account;
Gender justice: sustainable social change depends on special attention to the position and rights of women, given their potentially pivotal role as agents of change.
Our strategy is laid out in detail in our corporate plan for 2011 to 2015 'Fair Future For All' (PDF), and our Annual Plan for 2013 (PDF).
| | |
| --- | --- |
| Bron | Oxfam Novib, April 10, 2013 |