history
After the Netherlands suffered from severe flooding in 1953 that killed over 1800 people, other countries – including much poorer countries, such as India – sent emergency aid. This display of generosity inpired Father Simon Jelsma to want to return the favour.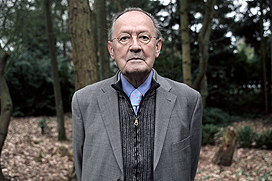 Our founder Simon Jelsma.
Photo:Joost van den Broek/Oxfam Novib
In March 1956, Jelsma and others founded the Netherlands Organisation for International Assistance (Novib) – the country's first politically independent and non-religious development organisation. Jelsma died in 2011, and his memory is honoured today through the Simon Jelsma Award to mark outstanding contributions from Dutch people to international development.
Novib established a firm foothold in the Dutch public consciousness through appeals such as 'Guest at your Table' (1963), which invited the Dutch public to contribute the cost of a meal a day for someone in a developing country, 'Food for India' (1966), and 'Hope for the Sahel (1975)'.
Over the years, Novib's description of its approach evolved from emphasising "assistance" to "co-operation". We tackled poverty on a widening range of fronts, not only supporting development projects but also putting pressure on businesses, governments and international institutions.
Increasingly we realised that we could be more effective in partnership with likeminded organisations. In 1996 we became an affiliate of Oxfam International, and in 2006 we changed our name to Oxfam Novib.
We are now in the finalising stage of two important organisational developments – decentralising to field offices, and joining in the Oxfam confederation's Single Management Structure – which should ensure that our future holds ever greater efficiency and impact.
| | |
| --- | --- |
| Bron | Oxfam Novib, April 10, 2013 |