Gender and Youth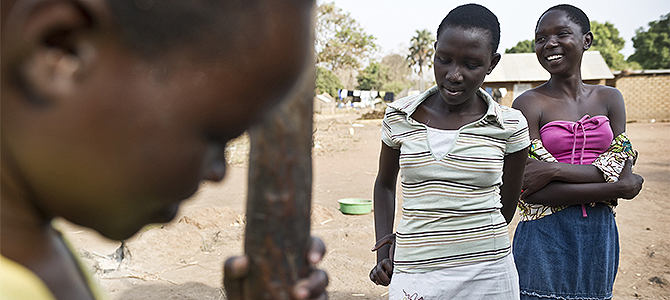 Photo: Oxfam/Sven Torfinn
Today's youth population presents society with unprecedented opportunities to accelerate economic growth, reduce poverty and improve well-being. There are more youth (age 15-24) than ever before (1.2 billion). Ninety per cent live in low-income countries. In Africa 70 per cent of the population is under the age of 30. Youth have the potential to be a tremendous force for change but are generally excluded from political processes and face many challenges including denial of their sexual and reproductive rights (to love/sex), quality education (to learn) and formal employment (to earn).
With their, energy, skills and creativity, young people have the potential to be the driving force for change, strong economies, vibrant democracies and prosperous societies. Oxfam Novib aims to work jointly with youth to challenge barriers that prevent them from enjoying their rights particularly around Love (SRHR), Learn (quality education) and Earn (quality jobs). Furthermore, we strive for young people to participate in society and have an effective voice in decision-making processes.
Young men and women share a number of challenges:
• Love: over a third of young women in low- and middle-income countries are married before age 18. Pregnancy is the leading cause of death worldwide for girls aged 15-19. An estimated 2.2 million adolescents (around 60% girls) are living with HIV.
• Learn: 71 million children of lower secondary school age, mostly girls, are not in school.  In 47 out of 54 African countries fewer than half of girls go on to secondary education.
• Earn: At 13.1 per cent, the global youth unemployment rate is almost three times the adult rate. More young women are working, but often for less than their male counterparts for the same work.
Ensuring that the next generation is educated, healthy, has a livelihood and participates as active citizens is crucial in the fight against inequality and injustice. Harnessing the energy and strength of young women and men and working with this target group is core to Oxfam's goal of creating transformational change. Our Youth programs not only work with youth themselves but also the private sector, governments, families and communities. We work to scale by targeting policy makers for political and institutional change; transforming existing service providers; creating replication of innovative models (for example within education systems); and most importantly we have a multi-stakeholder approach to ensure wide dissemination of program models. Our approach is holistic with a thorough analysis that depending on the context and the specific program includes gender, conflict, and market. We use a human centered design approach to develop and implement our programs which includes involving donors, youth, government, private sector, leaders etc. We find it instrumental to also learn and innovate through our programs through research, learning events/moments and taking time to reflect. Last but not least we work through and with civil society partners.
Youth as active citizens

Oxfam Novib is transforming unequal power structures affecting young people's rights and needs. Using the UN's definition of youth (ages 15 to 24), our programmes focus on the theme of Love, Learn and Earn.
Read more

Women's empowerment

Oxfam Novib transforms unequal power structures that impact women's and girls' rights and needs. Women and girls should have equal opportunities and should be able to fully enjoy their rights, free from all forms of violence and discrimination.
Read more
Deel: