cooperation
We co-operate with anyone who believes in people's own initiative: private donors, governments, businesses, the organisations of people in developing countries. Everybody can be an 'ambassador of do-it-yourself'.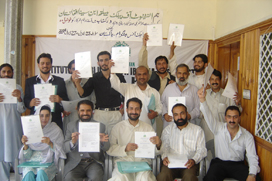 Foto:Oxfam Novib
In developing countries
In developing countries we fund around 850 partner organisations. Some support hundreds of thousands of people. Others only a few hundred. One is focused on education or agriculture. Another one is fighting HIV and AIDS, or helping to build democracy.
All of these organisations are rich in experience. They exchange it in special projects and a worldwide knowledge centre. In this manner they won't have to reinvent the Wheel.
In the Netherlands
We co-ordinate our work in developing countries with the Dutch government. Businesses support us via various projects in developing countries. And we've helped Verkade to produce fair chocolate in the Netherlands.
But we're also critical. We set up the 'Fair Banking Guide'. It's where clients can call on their bank to account for its investments. Do you know of a good action against poverty? Then contact our 'Linkis' window and ask it to help you implement your idea.
Worldwide
We conduct international campaigns together with others. For instance with our partner organisations or our Oxfam sister organisations. Together we campaign for fair trade (Make Trade Fair), a global arms trade treaty (Control Arms) or education (Education for All).
For a full overview of our co-operation partners see our Annual Report.