about us
Oxfam Novib is a Dutch development organisation committed to a just world without poverty.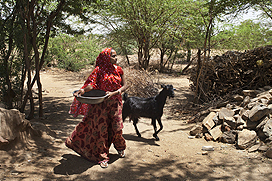 Photo:Alakananda Nag/Oxfam Novib
We are one of 17 affiliates of the Oxfam confederation, who together work with local partners in 94 countries.
Under the Oxfam confederation's new Single Management Structure, Oxfam Novib has the lead role in Oxfam's work in Afghanistan, Angola, Cambodia, Egypt, Maghreb (Morocco, Algeria, Tunisia and Libya), Mozambique, Niger, Nigeria, the Occupied Palestinian Territories/Israel, Somalia, Uganda and Vietnam. We also work in Bangladesh, Burundi, Democratic Republic of Congo, Laos, Mali, Myanmar, Pakistan, Rwanda, Senegal, South Sudan, Sudan, Yemen and Zimbabwe, and on Oxfam's pan-Africa programme.
We have almost completed the process of decentralising, whereby we are reducing staff numbers at our head office in The Hague and increasing staff levels in our field offices in the countries where we work. By November 2012 we had 290 out of a total 616 staff based in the field. By the end of 2013, we will have opened 20 country offices, with mostly local staff.
In 2012, our major sources of income were the Dutch Ministry of Foreign Affairs (MFA) (44.7 million), the Dutch public (27.7 million), the Dutch National Postcode Lottery (15.1 million), and institutional donors (35.4 million). Our funding from the Dutch MFA comes to us as the leading party of the IMPACT Alliance, along with our partners Butterfly Works, the 1%CLUB, Somo, HIRDA and Fairfood.

| | |
| --- | --- |
| Bron | Oxfam Novib, April 10, 2013 |